Clash of Clans has, at its heart, a focus on building relationships with other players – whether they're friends, or complete strangers that you come to know through the game itself. You forge alliances, and join clans, with the ultimate goal of conquering every enemy that presents itself before you.
In the previous installment on this topic, we covered the early steps of creating your own clan; doing so, and having it become successful, could be considered a major achievement within the game itself, but how do you do that without your newly created organization being abruptly swept aside by some other, well-established clan?
The topics that have already been covered include waiting until you're at least level 60, with a Town Hall of at least level 7, and also having a clear purpose in mind for the clan before you start recruiting. Now, we'll move on to the subsequent steps that you need to take into account – if you want your clan to not only succeed, but also to become powerful and resilient. There is a great deal of emotional satisfaction involved in creating and running a successful clan, and nobody wants their new clan to disappear overnight.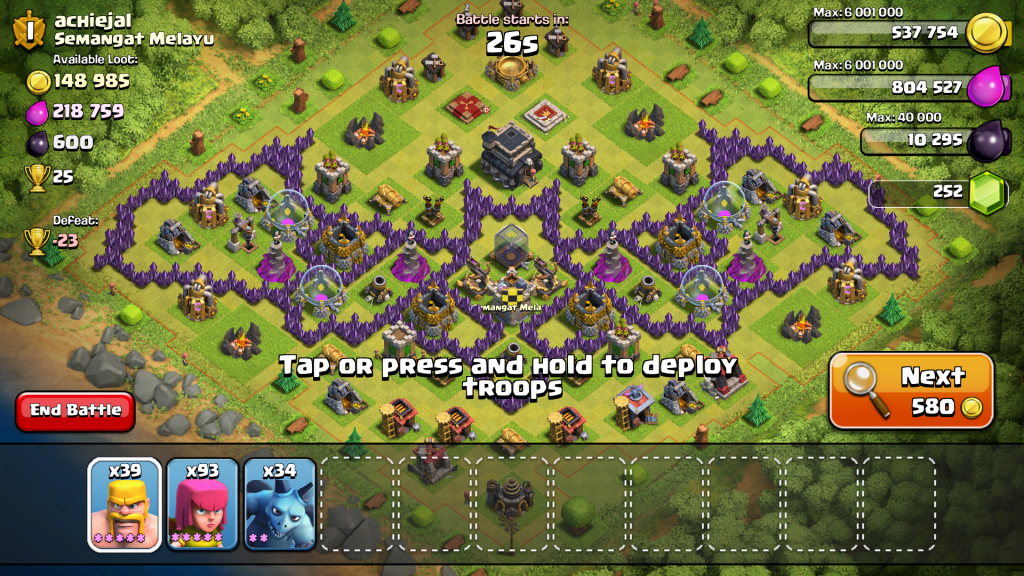 Name the Beast
It might sound trivial to some, but anybody who pursues any sort of sales, marketing, or design will tell you that having a good name is crucial. The first thing that any potential recruit will see isn't how successful your clan is, or how many members it already has, or how dedicated you are to its success.
The first thing they're going to see is the name of your clan. It has to be something that's somehow eye-catching, something which makes the sort of impression that leaves someone not only willing to join but also, somehow, potentially interested in your clan in particular.
You want to come up with something that's fresh and exciting. "The Cool Clan" is neither of those things; seriously, how much effort went into that? Nobody that you want on your side when your back is to the wall is going to take that seriously.
It's not creative, it's not original, it's not particularly in-depth when it comes to representing Clash of Clans thematically, it speaks to a general lack of concern – seriously, it's not brain surgery or rocket science, but it would be nice to know that you're playing with people who at least find the game fun – and, perhaps worst of all, it's dreadfully boring.
 Look at successful clan names already in existence, and try to come up with something suitable to the game… something with a little flavor to it. "The Whitesmen" perks up a little interest upon reading it, as does "The Harpy's Talon," if for entirely different reasons… but your specific reasoning isn't particularly important, not nearly as much so as the name itself sounding as though it's suited to the game, appropriate to an organization encompassing a diverse group of players, and fun. It must be fun.
Creating something that sounds like it might have a little history behind it is one way to go. That could be the history of your clan itself, within a sense of the world of Clash of Clans actually existing as its own real place. Alternatively, it could also be a history of the organization in a sense that transcends Clash of Clans; perhaps your clan has its roots in a "greater" organization, a gaming clan that spans multiple games, with the same core members involved in each one (more or less).
Such a clan might have its own Website, independent of Clash of Clans. This is a great way to get people interested in "The Pirate's Daughters," or "The Splendid Kilts," or "The Green Archon's Flame."
 A Symbol is An Idea
Choose a good symbol for your clan. If your clan name incorporates colors, or themes, try to pick colors for the symbol that reflect those which you've chosen. A good clan symbol might make would-be enemies think twice, once you're strong enough to hold them off… but the real benefit to it is recognition.
When your clan is successful and powerful, your clan's symbol will be instantly recognized, and other, unaffiliated players will know that they'd better think twice before giving anyone who's a member of your clan any trouble.
Write a Good Description
Your clan's bio exists to help you with recruiting, so write up a friendly and informative description for your clan. Include things like your clan's purpose – hardcore, farming, or casual – and consider putting in certain basic clan rules, so that prospective members are well-informed about what to expect upon joining.
This can always be done individually, as players join, but some people find the assertiveness of having the rules pasted for all to see in the clan's bio as a confident gesture unto itself. Consider using flavored text, such as accents or archaic words, to make your clan's bio stand out as more memorable.
Ultimately, what you put into your clan's bio is up to you – you're the boss – but it should speak to "why would I want to join Balrog's Eye?" in a way that clearly expresses the benefits of signing up.