Clan Castles are undoubtedly one of the neatest things in Clash of Clans. It allows you to interact with other people in a game that's otherwise not very social. You're probably used to just attacking random people and trying to build up a base that can fend off people who try to attack you. Surprisingly, the game gets a little neater once you're level three and can build a Clan Castle.
Finding a clan is easy. You can just look in the game itself, or take a peek online to find yourself a clan. You'll want to find some people who like you in your clan and are willing to donate troops to you every so often so it's worth it being in the clan. In this article we're going to talk about how you can utilize your Clan Castle to the maximum efficiency and we'll also talk about how you should protect your Clan Castle.
Let's delve into the article!
Placing your Clan Castle
Placement of your Clan Castle is a huge deal later in the game, but as many people will tell you, it doesn't matter a whole lot when you're at a lower level. The reason for this is at a lower level (under six or seven), it's really easy to just lure the troops in the Clan Castle to the outside of the base and out of your way so you can destroy your opponent's Town Hall.
As you progress through the game, it's a lot harder to just pull the troops from a Clan Castle out and away from a base as there's so many buildings in the way. Especially if you have a maze design, your troops definitely won't get lost. Don't forget that your enemy has limited time, and can't spend most of the game luring your troops out of your Clan Castle.
With all that in mind, earlier in the game it doesn't really matter where you place your Clan Castle, and protecting it isn't as important as your opponent will just be able to lure the troops out with a few Wall Breakers and Goblins. As your base gets bigger and you have more buildings, it's time to start looking at the right place to set your Clan Castle down. Make sure to place it near the center of your base. The only building you should have more well-protected and hidden than your Clan Castle is your Town Hall (which should be located near your Clan Castle so your troops can protect it). This way your troops will never be lured out.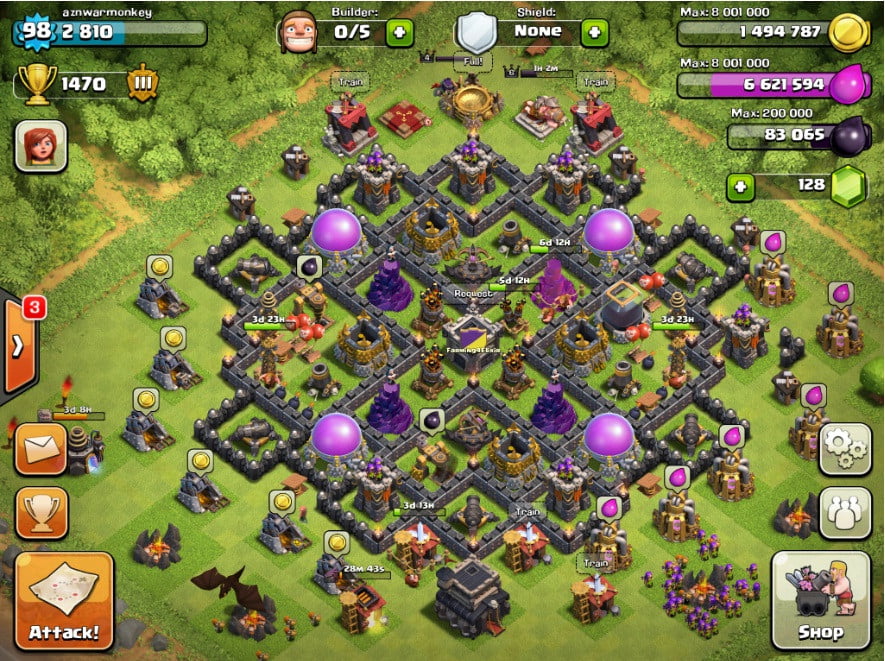 Keeping The Right Troops in your Clan Castle
Choosing the right troops for your Clan Castle is also very important. They're what's going to be left behind, protecting your Town Hall and trying to keep your opponent from stealing your precious trophies. In our opinion, the best troops to keep in a Clan Castle are Archers and Wizards. Archers are great because they can shoot enemies from afar and they can also shoot over walls, keeping enemies at bay for long periods of time. Wizards can deal tons of damage quickly and can decimate singular enemies nearly instantly.
If a few Wizards pop out of your Clan Castle, your opponent will surely be a little scared.
As long as you keep your Clan Castle full at all times, and place it at a good location, it should be very effective in keeping your base safe.
Protecting your Clan Castle isn't super important at any level as long as you keep it towards the center of your base at higher levels. Anything at the center should be fairly safe from enemies, and if they're penetrated that far through your forces, perhaps the Clan Castle will be able to fight off the last of them.